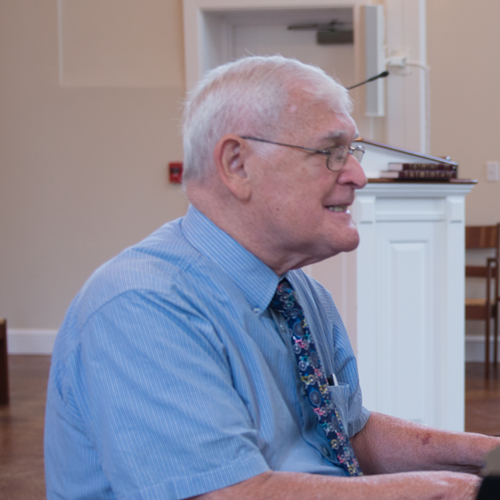 Growing up in the Washington, DC, area, I studied piano for six years, and sang in my high school and college choruses. However, my college degree was in marketing and public relations, and my working career was in the telecom business, working first for AT&T, then with GTE Corp (now Verizon).
When I retired, I got back to music. Jan and I joined WPC in 1987. We both sang in the choir, and in May 2002, when my predecessor announced he was leaving, I volunteered to fill in on a temporary basis. And I'm still here.
Jan and I have been members of the Wilton Singers since its founding back in 1983. For the past 14 years, I've also been Music Director for the Wilton Children's Theater, performing shows such as "Anything Goes", "Music Man", "Mary Poppins" and "Seussical the Musical." Next March we'll be doing "Oliver."
But it's our wonderful choir that energizes me. For a modest-sized church, we have a remarkably awesome group numbering 25-30 voices. Our Sanctuary Choir is entirely voluntary. No paid soloists or section leaders. And no auditions; if you can walk and breathe at the same time, you're in. We rehearse on Thursday evenings, and again on Sunday prior to our 10 am service.
In addition to our Sanctuary Choir, we are proud of our Bell Choir, directed by Jan MacEwen. And on special occasions, we assemble a very vocal Youth Choir. It's a joy to worship God through music. Come join us. We'll welcome you with open arms. You'll get one of the best seats in the house … and a choir folder to boot.
---