Children
Why we do what we do:
At Wilton Presbyterian Church we believe children are valuable members of our faith community. And we believe that interfaith and interdenominational relationships help in the faith development of our children, youth, and adults. Because of these beliefs we intentionally have a combined church school with St. Matthews Episcopal Church and are active in interfaith efforts. This spectacular partnership between St. Matthews Episcopal Church and Wilton Presbyterian Church allows us to have a team of incredibly qualified staff members devoted to the faith development of our children and youth.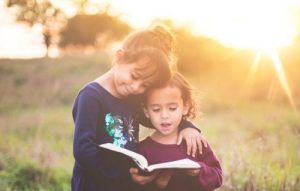 What programs we offer:
Church School:
Our Church School is a vibrant community of adults and children from both St. Matthew's and WPC who come together on Sunday mornings to worship, learn, pray, sing, play games, develop a sense of belonging, and explore what it means to be a child of God.  Most Sundays we have church school for all children and youth from nursery to 7th Grade.  Many of our high school youth serve as helpers in the classrooms.
4th Grade Bibles:
Our 4th Graders go through a short introduction course to the bible before receiving their bibles in church.  We explore together why there are different translations of the bible and we practice how to navigate and use it.
Nursery:
Every Sunday of the year, children up to three years old are provided a safe, warm, and welcoming environment by the great care of our two paid supervisors and additional youth volunteers.
Advent Calendars:
Our advent calendars are the brilliant creation of Becky Hudspeth, St. Matthew Episcopal Church's Coordinator of Church School, Youth and Children's Ministry.  Every day comes with a write up designed to spark conversation and deepen faith, and a small gift.  "This is the best Advent Calendar I've ever seen! And you sell it for less than the Lego advent calendars?" – Nate Taylor.  Seriously you do not want to miss out on this powerful countdown to Christmas.
What to expect on a typical Sunday:
Start in worship – On a typical Sunday children begin in worship through the first hymn and then are invited forward for a moment with the children and youth in the service of worship.
Go to Church School – After the moment with the children and youth children are led to their classrooms for church school.
Go back to church or have additional group time – After Church School if there is communion, the children and youth are led back to church.  If there is not communion, children and youth are let to the Upper Core room for more games and teaching.
Curriculum
We use "SHINE: LIVING IN GOD'S LIGHT" for 4 year olds-Seventh Grade. It is an ecumenical curriculum that is written to encourage children to experience "the transforming power of God's love and shine God's light in the world".
Our teachers value "SHINE" because it is teacher friendly and empowers them to be able to teach meaningful and fun lessons. Our children like it because it is not designed as just a paper and pencil curriculum. "SHINE" includes a variety of activities for teachers to choose from that are appealing to different children.
Parents have appreciated that children in Pre-Kindergarten through second grade will bring home a leaflet each Sunday which includes an activity or discussion for parents to engage in with their child in order to build on the Church School lesson for that day.
"SHINE" nurtures the development of a strong community of children and adults learning from each other and growing in their love for God as they worship, learn, and serve together.