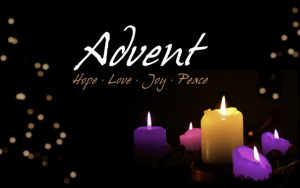 What is Advent? 
Lighting the Advent Wreath in the Tradition of Hope, Peace, Joy, and Love
In the ancient world, various peoples lit fires to mark the turning of the light into winter's season and to pray for the return of the light. The Church has Christianized that practice in the lighting of the Advent wreath. To us, these candles are signs of the growing light of Christ who is coming again in all fullness into the darkness of our world. Until the dawning of that Great Day, we watch and wait in Holy Spirit for Christ's coming into the darkness of our world, lighting candles of hope, peace, joy, and love; and remembering the promises of God with prayer.
   

The Meaning of Advent
 "Advent" means "coming" or "arrival". During the season of Advent, we celebrate Christ's coming into the world and watch with expectant hope for his coming again. In its historical origins, the season of Advent was patterned after the season of Lent, a six-week period of penitence and preparation for Easter. Similarly, the four weeks of Advent present an opportunity for communal discernment and personal examination, as the church prepares to celebrate the Nativity of the Lord and looks with hope for Christ's return.
Please join us this Advent Season!  
 Big Music Sunday 
December 16th at 10:00am
A Festival of Music with our Choir, HandBell Choir and Guest Musicians. Come and hear beautiful Christmas hymns and experience the joy of the season.
Followed by a chili luncheon in Parish Hall.  All are invited!
Lessons and Carols
December 23rd at 10:00am
A festive celebration that will surely get you into the Christmas Spirit
Christmas Eve Services-December 24
Christmas Eve Candlelight Worship Service 
4:00pm 
Family Service with Nursery for infants to 3yrs old with Rev. White preaching
Candlelight Worship Service
9:00pm 
There will be no Church School, Rev. White will be preaching
-www.presbyterianmission.org/resource